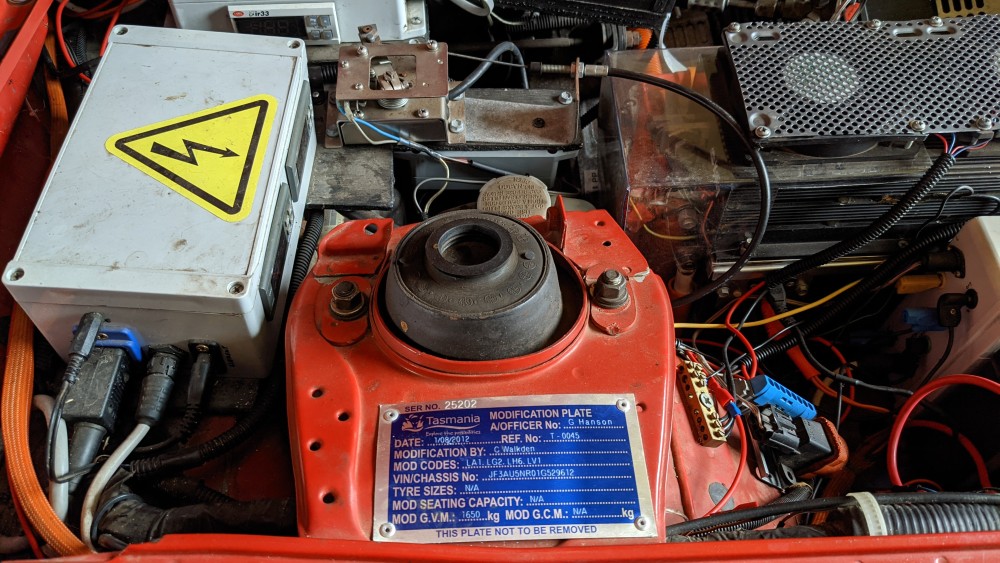 Converting a vehicle to electric is a huge task, and if you want to drive it on a public road you have even more work to do. The first step on the road to your 'blue plate' is to find an engineer qualified and willing to work with you on certifying your build.
Tasmanian legislation Vehicle and Traffic (Vehicle Standards) Regulations (Reg27) requires modified vehicles to comply with VSB14 or modification otherwise acceptable to the Registrar (RMV = Tasmanian Registrar of Motor Vehicles). Further to that Vehicle and Traffic (Driver Licensing and Vehicle Registration) Regulations 2021 (Regs 138 and 139) requires formal certification of modification of all vehicles being used on public streets.
The certification of vehicle modifications is performed by qualified people who work in the automotive trade. The Department of State Growth calls such a person an Approved Vehicle Certifier (AVC), and the businesses at which they work an Approved Vehicle Certifier Approved Inspection Station (AVCAIS).
All current AVCs are kept in a list on the department's website, however the list may be updated at any time so it can't be linked here. To find the current list navigate to this page, click on the text "Where can my vehicle be inspected", and open the link that is revealed. This will download a Microsoft Word document with the current AVCs and AVCAISs listed. If you don't have Microsoft Word you can do what I did and call the department on the phone number listed on the page.
Once you have the document, look for the column "Mod Codes". Only engineers listed as having AVC1 or AVC2 qualifications (tertiary qualified engineers) can assist with modification certification, however an AVC4 can assist with certification if a 3rd party tertiary qualified engineer assists and provides VSB14 report requirements. Talk to your AVCAIS to see if this could apply in your case.
Once you've found out who can help you, give one or more of them a call and have a chat about your plans. It's best to do this before you start your conversion so you have a good idea of what is required from their point of view. Don't necessarily dismiss a candidate because they are not based in your part of the state, these people often travel around quite frequently. Inspections can sometimes be arranged at your own premises, which is easier than transporting an unregistered vehicle to their place of work.
This information is specifically for vehicles modified in Tasmania. For general information on converting vehicles to electric visit our conversions page here.
Good luck!