I've been experimenting with different wheels for the i-MiEV, and have found that quite a few OEM wheels (with some modification) will fit the i-MiEV.
The stock i-MiEV wheels are 15"x4" with an offset (or ET) of +35 at the front with 145/65R15 tyres on the front, and are 15"x5" with an offset of +35 at the rear with 175/55R15 tyres.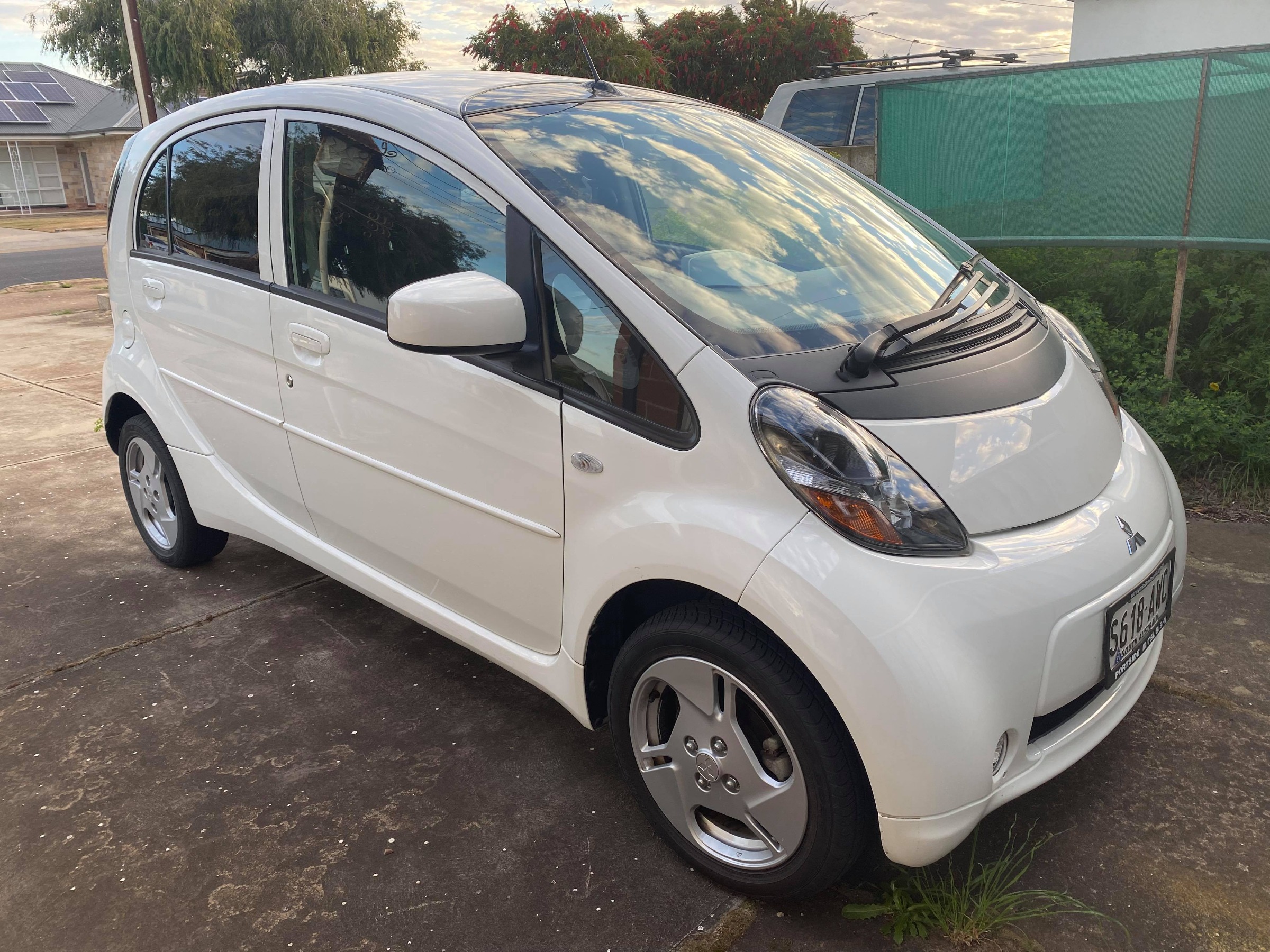 If you're looking to change the look of your vehicle, there are no commonly available aftermarket wheels that are narrow enough to fit the i-MiEV that are available from Australian outlets, only in a few overseas markets like Japan or Europe, and none are particularly cheap to buy or ship to Australia. I thought that there had to be another solution.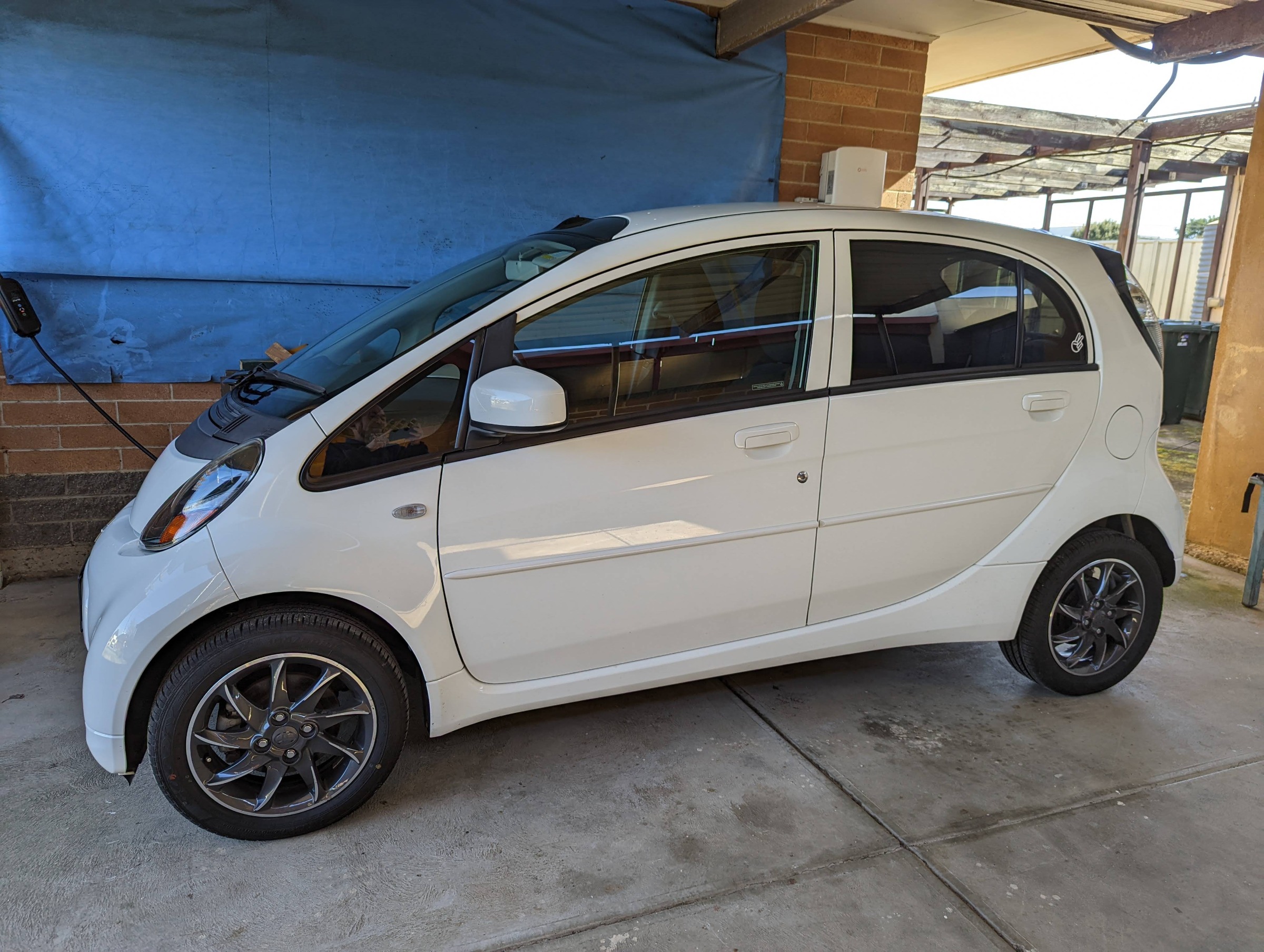 After some research of common OEM wheel sizes, PCDs, centre bores, offsets, scub radi, etc., I settled on a solution. My i-MiEV now sits on 2012-2014 Toyota Yaris XP130 5Jx15 ET39 alloy wheels (part number PZ406B067BZS) with 165/60R15 on the front and 185/55R15 on the rear. The new wheels are 17mm closer on the inside and extend out 9mm more on the outside, still fitting under the guard with plenty of room both front and back of the wheels and there is no rubbing or scrubbing. The tyre sizes I've chosen are both around 2% larger than stock, as they're both a more common size. It's important to make sure the tyre sizes are scaled scale evenly front to back, otherwise it can effect the traction control. I got my wheels with included wheel nuts for around $136 each, plus freight, new from a Toyota dealer via their eBay store...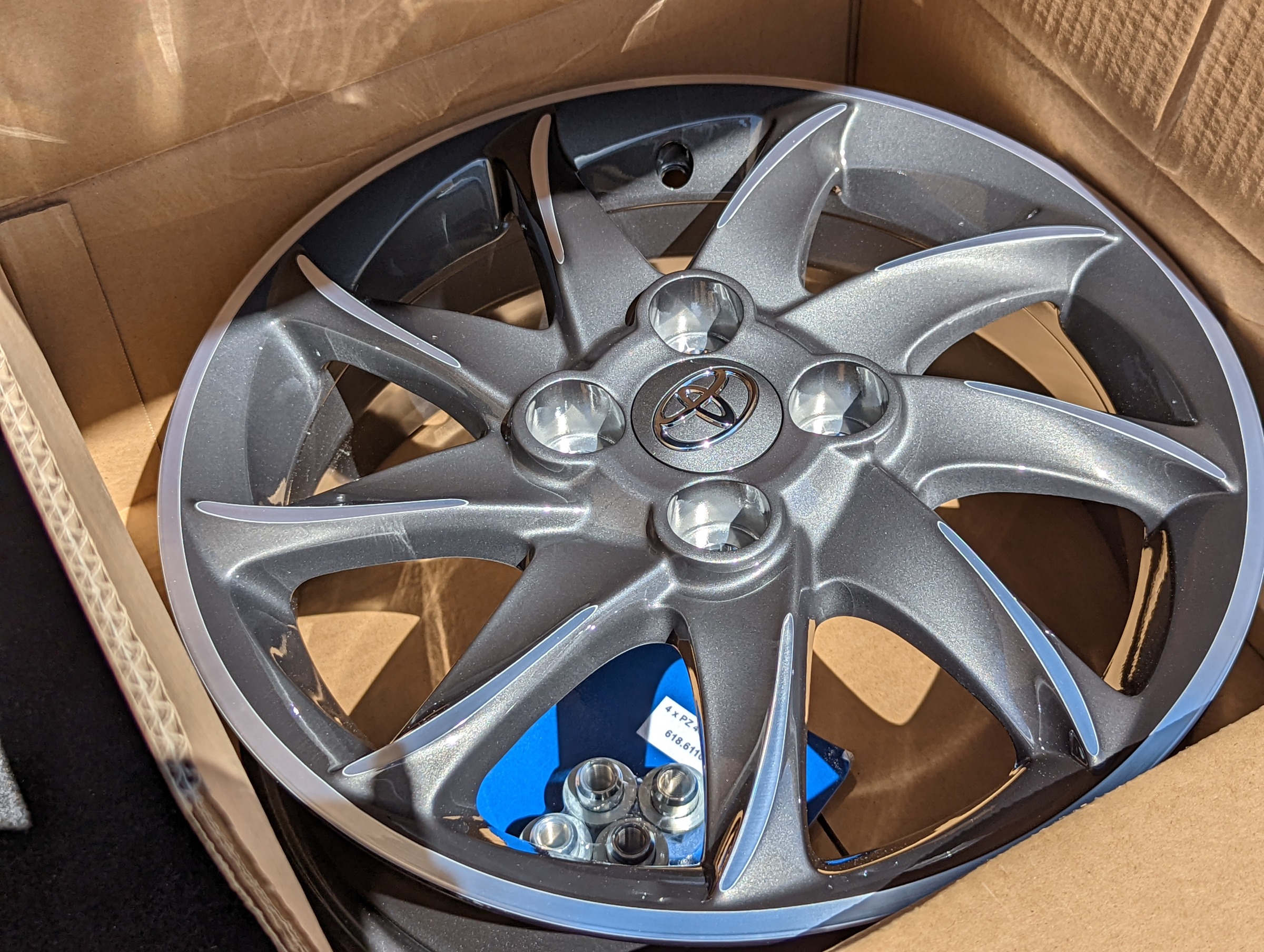 There is more to wheels than size and width however. The i-MiEV has 4 studs to mount the wheel onto the hub, the distance between the two opposite studs is 100mm, so it means it has a PCD of 4x100, the same as the Yaris, great!. But there's more, the hole in the middle of the wheel seats on a centre ring that protudes out from the face of the hub. The size of this hole is called the centre bore. This is where it gets tricky. The centre bore of the Yaris wheels is 54.1mm, but the i-MiEV has two different centre bores, 56.1mm at the front and 54.1mm at the rear, so it meant that the centre bore of the front pair had to be machined out 56.1mm.
With this centre bore modification process mind, it opens us up to other 4x100 PCD and 54.1 centre bore OEM wheels such as the 5Jx15 ET40 alloys from a 2012-2020 Suzuki Swift or 2016-2020 Suzuki Ignis (with suitable wheel nuts), and probably a few others.

Despite already having a set of wheels I'm now happy with, I'm also looking at 5.5" wide wheels like the 2014-2020 Toyota Yaris XP150 5.5jx15 ET39 alloy wheels (part number PZ49MB0670MB, EDIT: I found out that part number is actually 5jx15, not 5.5jx15), or the 2015-2022 Mazda2 5.5jx15 or 5.5jx16 ET40 alloy wheels, but these 5.5" wheels may be a couple of millimetres too close to the strut tower on the front (EDIT: the Mazda2 15x5.5 ET40 alloy wheels with the centre bore modification do fit with around 3mm to spare between the wheel and front strut).

Some may ask why have I bothered? Aesthetics aside, there are a few reasons. In a lot of locations around the world the smaller tyres are not commonly available, and if they are they're often lesser known or lesser quality brands. It also opens up additional and reasonably priced wheel options, as most 3rd party manufacturers don't sell narrower wheels, most only do 6" and up. Wheels with lower offsets are also less common unless they're on wider wheels, so while the stock offset is +35, most offsets tend to be +39 or higher. A higher offset means the wheel sits closer to the suspension, and there isn't that much space to play with. You can gain a little more using 16" wheels, but may sacrifice ride and range with even lower profile tyres.

Potential downsides? Wider tyres will cause a slight reduction in range, but by choosing eco tyres, it's not a massive hit. You do also need to have a company in your area that can machine wheels. I had a pair of wheels machined for around $120 AUD, which isn't that much compared to the cost of importing wheels. Most places will charge extra to remove the tyres to do the machining. The 185 tyres do balloon a little on the 5" rims, but are still safe, so considering that the fronts are only 2% larger, sticking to the original 175/55R15 tyre size probably would have been fine and I doubt that it would have caused any issues with the traction control. Wider tyres on the front may also make the steering a little heavier, depending on how your wheels are aligned.
In my research to do the upgrade, the Wheel Size website was invaluable for finding 4x100 PCD wheels and calculating tyre sizes, as well as a simple offset calculator to let me know how much closer the wheel will sit on the inside and extend on the outside compared to stock. I used Extensive Wheel Services in Adelaide to get my wheels machined.

For those reading from overseas, this has been done from an Australian perspective, so research the options for models in your country (European vehicles such as the Toyota Aygo/Peugeot 107/Citroen C1 have some narrow wheel options that can be modified).