Introduction
I came up with the idea to drive an electric vehicle from Perth to Kalgoorlie and back in early 2020. As an environmental professional working in the WA spodumene (lithium) industry I thought it would be great to experience the other end of the supply chain and to get a better handle on the issues impacting electric vehicle adoption in WA.
I asked my father Dave to come along for the ride. Dave is technically and mechanically savvy and usually up for an adventure. I thought he might be able to solve a charger issue should one present itself.
Originally, I rang a conventional car hire company like Thrifty, thinking I might be able to hire an electric vehicle. Alas I found the car hire companies in WA weren't in the electric vehicle hire market yet. Then rather fortunately, I heard a radio Ad on RTRFM spruiking Electrikhana, the Australian Electric Vehicle Association's annual event held in March. It was through this Ad I became aware of the AEVA. After contacting AEVA I was referred through to Matt Kocaj, a Perth EV owner and hirer, through Evee – Australia's first EV rental company based in Canberra. So my mission was starting to come alive.
Familiarisation; Day Hire
On the 4th of July 2020 I hired Matt's Model 3 Tesla for the first time just to experience driving and charging EVs in Perth before I commenced my Kalgoorlie mission. After driving down to Byford to pick up the vehicle and getting a basic 101, I was let loose on the road. I swung by my parents place to pick up Dad, as my future Kalgoorlie-or-bust co-pilot. I quickly got used to the regenerative braking, touchscreen control panel and the cars other unique features. We used the Plugshare App to find our first unsuspecting charger stations. Firstly, we went to UWA to experience fast charging and its accompanying high-tech flashing panels and swipe cards. Then we went round the corner to Sunset in Dalkeith to try a more conventional three phase outlet charging scenario.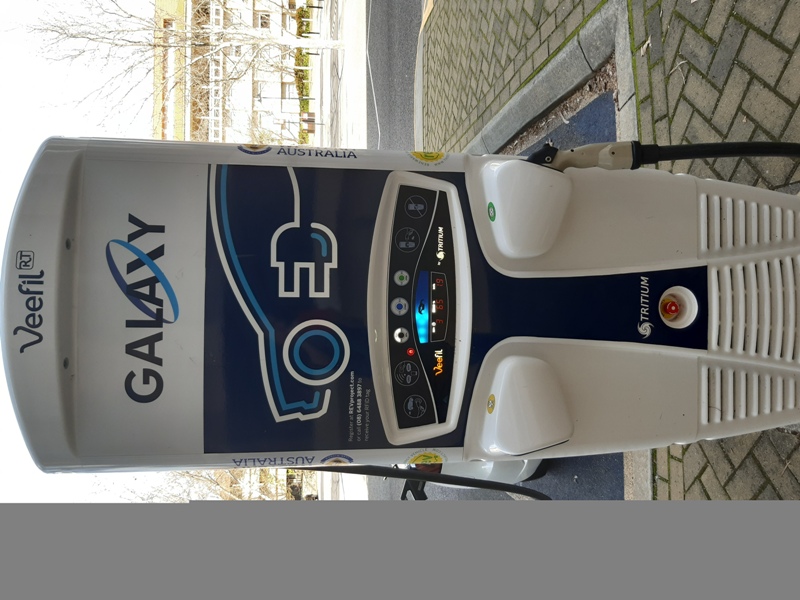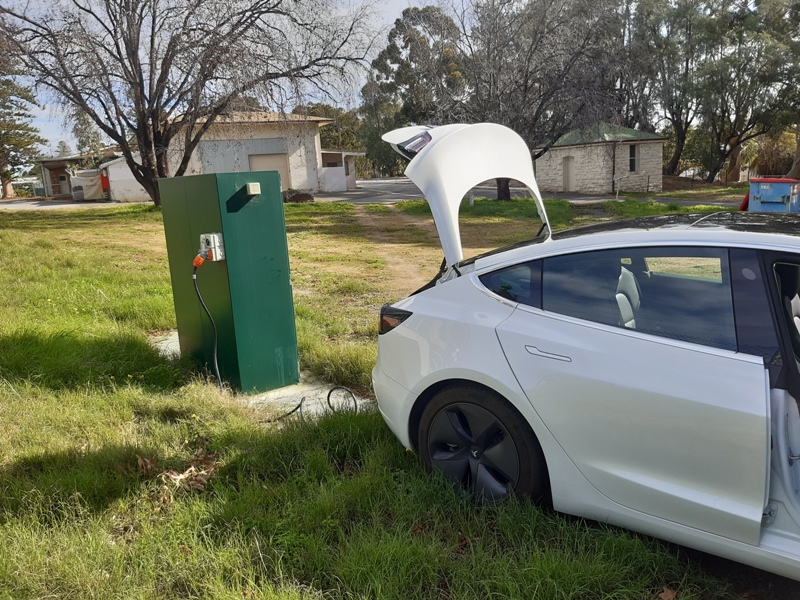 Although these two charging experiences were vastly different they were both successful. After a bit more driving round town and dropping my Dad back home, I made my way back down to Matt's place in Byford.
All in all this familiarisation drive day was well worth it, just to build some confidence and understanding about what would be required to go to Kalgoorlie and back in a Tesla 3.
Trip Planning
Following on from the familiarisation drive Matt and I started planning the trip to Kalgoorlie in line with charger availability and the Tesla's predicted range of approximately 270 km from a full charge at highway speeds. The stops on our plan included Northam, Merredin, South Cross and Kalgoorlie. We Googled individual charger reviews on Plugshare to understand their compatibility with the Tesla 3 and any other potential issues like functionality, accessibility and cost. It was through this process I understood the number of plug types in existence (in the order of 11!) and that not all chargers are equal, particularly in terms of speed of charge. With an achievable journey plan and my previous familiarisation drive I felt ready for the trip to Kalgoorlie and back.
Day 1 Byford to Merredin
Day one (25/09/20) started out in Byford around 9.30am with a sense of enthusiasm and a fully charged battery. Matt gave a final few words of advice and tips on the car and charging gear. Prior to setting out we took our Perth based support crew out for a quick spin around the block for good measure.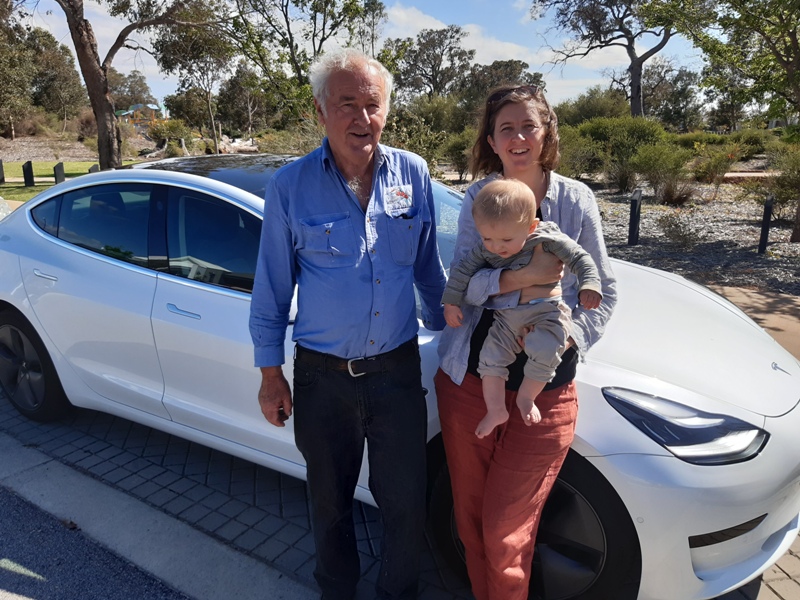 By midday we had made it to Northam and entered Plugshare into the Tesla's control panel. The Northam Oval, Exhibition Pavilion with its three phase outlets was our first destination. After a bit of jostling we worked out we needed a 32 Amp and 20 Amp five pin plug adapter and mobile charger combination.
After seeing the success of the flashing green charging light we settled in for the charging wait, approximately 2.5 hours. We had depleted the battery to a level of 59%. Dave, having his priorities firmly straight, went directly across the road to McDonald's while I got out my camping chair and book pulling up under the shade of a nearby tree.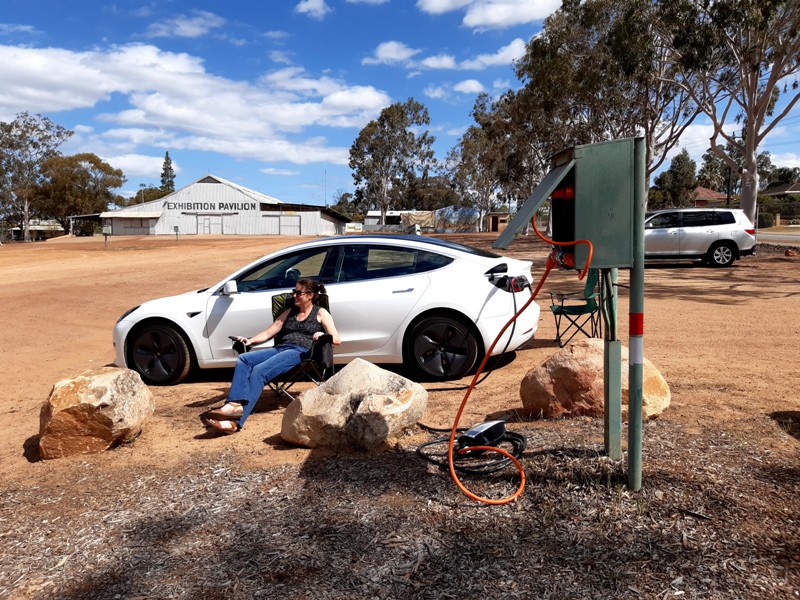 After charging to ~94% after 1.5 hours, we figured we could safely make the 160 km trip to Merredin. Of course, the Tesla's predictive battery consumption graph helped us reached these conclusions.
We arrived in Merredin about at 4 pm and went straight to the Merredin Regional Community and Leisure Centre charger. Unfortunately, we had no joy with this charger. It seemed as though payment was required but how to do this was unclear. We then tried our second option, the Tesla destination chargers behind the Merredin Visitor Centre. Alas, the power supply to these chargers was locked as we'd arrived after hours.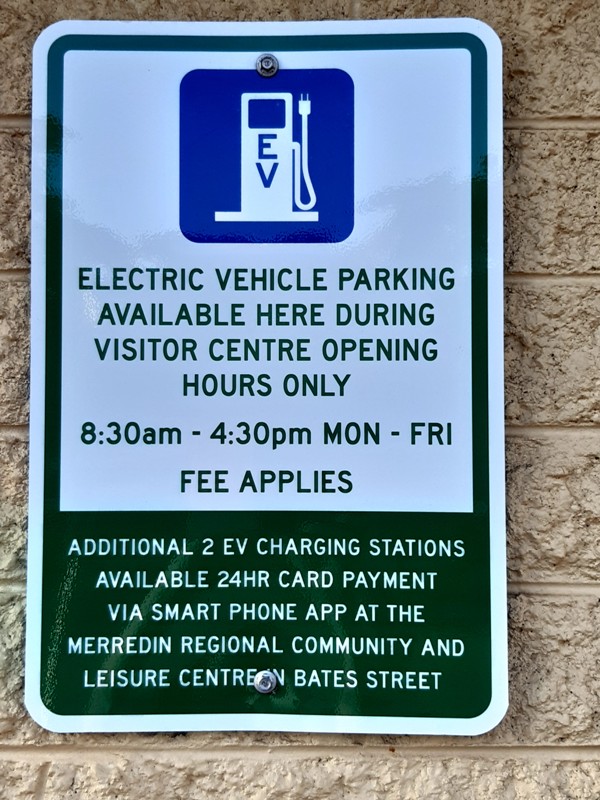 Just as it seemed we were out of luck, we bumped into the Merredin Visitor Centre staff in the car park who were kind enough to unlock the charger and provide us with the charge to continue on our intrepid journey to Kalgoorlie.
We needed to wait around three and a half hours to charge the Tesla from a level of 44% so we took the opportunity to try the beer at the nearby Commercial Hotel followed by an easy dinner at the Merredin Cinema and Café. After returning to check out the charging levels we found it was already 100% charged and we went to our accommodation for the night, the Northside Tavern, which had become surprisingly busy since we had seen it earlier.
Day 2 Merredin to Kalgoorlie
Day two of our journey saw us rise early and make a good start by going down to the Merredin Bakery for some early coffee and salad rolls. Prior to leaving town I needed to pay for our out-of-office hours charge from the day before. I slipped a payment form under the door of the Merredin Visitor Centre to settle our debts so we weren't accused of skipping town. We departed with 93 % and two hours later arrived in Southern Cross (109 km) with 59 % remaining.
Getting a charge in Southern Cross was a breeze thanks to the three phase outlet located on the outside of the Southern Cross Recreation Centre.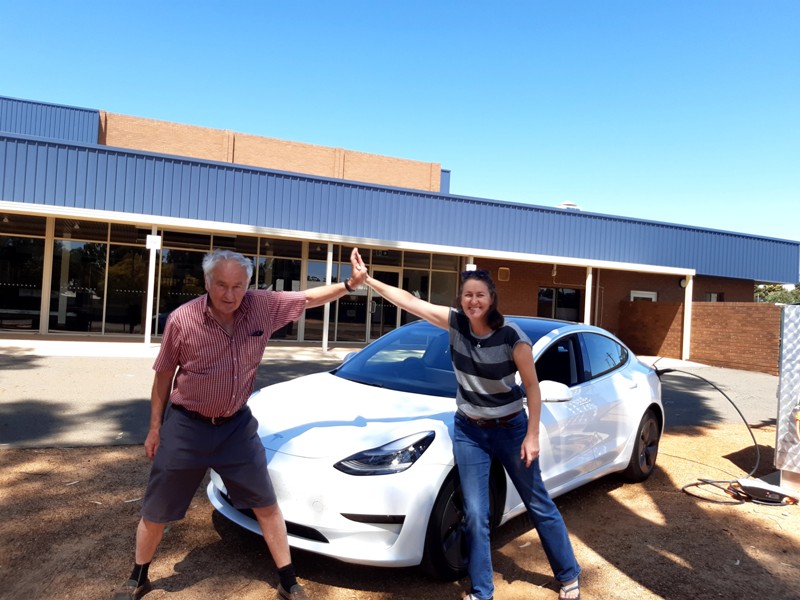 We were steadily getting more familiar with how to charge and the types of plugs and setups involved. This time we knew with a distance of 225kms to Kalgoorlie we would need a good charge to make it safely to our destination with some battery charge to spare.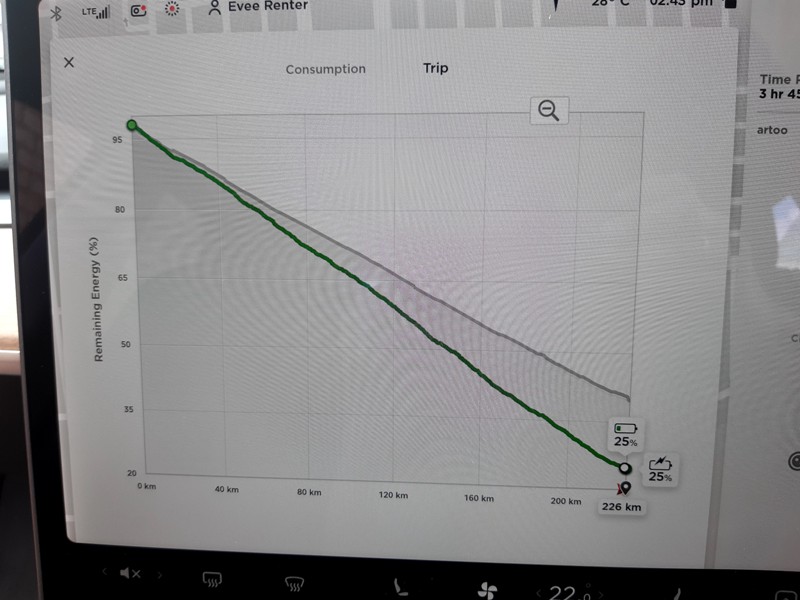 To pass the two-hour charge time, we walked down town visiting the Anglican Op Shop, the hardware store, service station, ice cream shop, newsagents and any other shop Southern Cross had to offer. We wandered back a couple of hours later and found we were ready to hit the road once again with a full battery.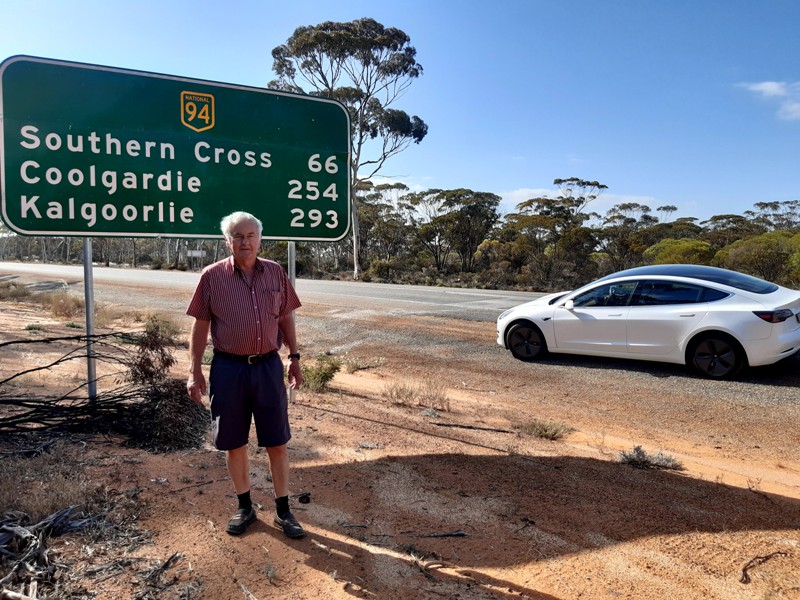 We made it to Kalgoorlie a couple of hours later, having taken some cool roadside photos along the way. We checked into our accommodation at the View on Hannan's in Kalgoorlie; booked as it came with Tesla charging facilities.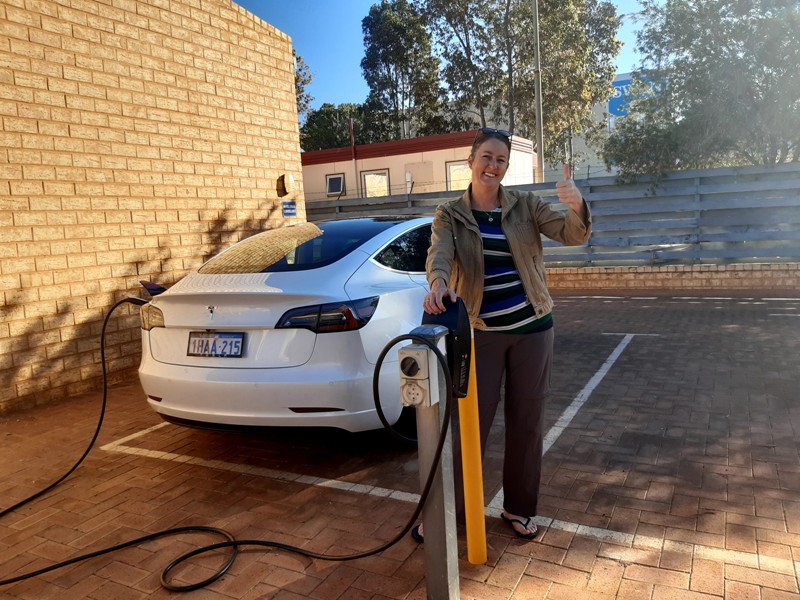 After a quick top up charge and snooze to recover from the drive we went for a quick spin out to Boulder looking for a pub with the open mine shaft in the floor. In conversation with a Boulder barmaid we learnt the pub in question was now permanently closed. Nevermind. We had a quick look at the Boulder streetscape and surrounds and then made our way back up to Hannan Street in Kalgoorlie's Centre.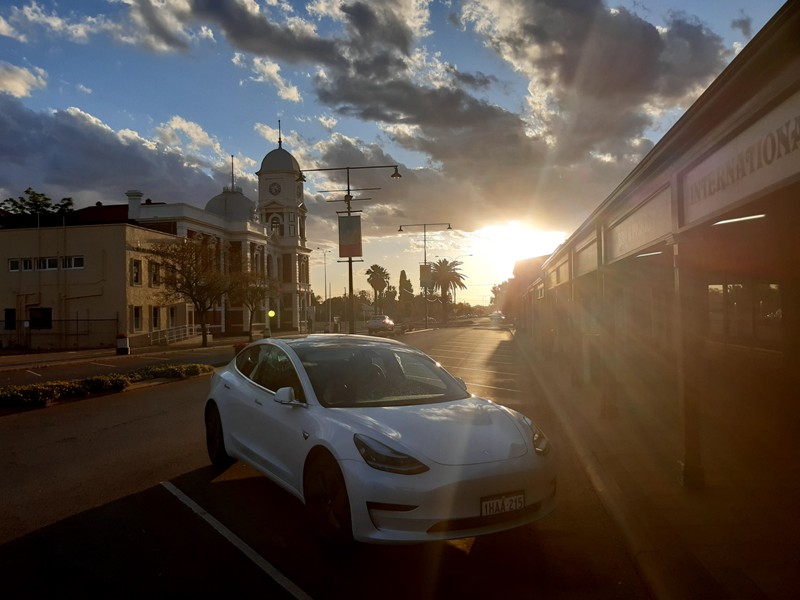 In the evening we shared a tasting plate meal in the historical Palace Hotel before heading back to our hotel after a long day.
We put the Tesla onto charge overnight so we were fully charged and ready to go the next morning. Day 2 was successful and left us with a sense of relief in knowing we had made it to our destination and also provided some confidence regarding chargers on the way home.
Day 3 Kalgoorlie via Bardoc to Merredin
Waking on day three we knew we had a big day in front of us. Firstly, we went to buy a cake for morning tea to share with my friend who lives at Bardoc.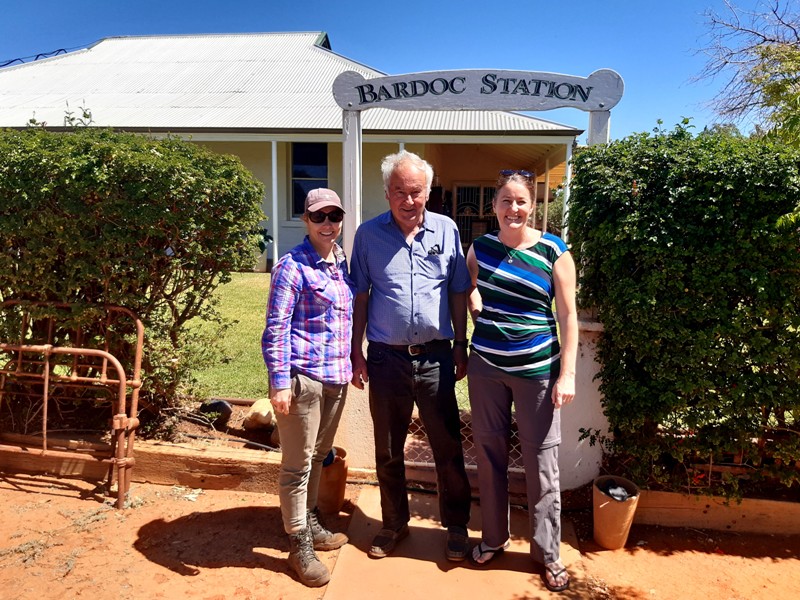 Bardoc is a locality 50 kilometres North of Kalgoorlie that used to be a thriving goldfields settlement in days gone by. Prior to heading to Bardoc, we took a quick detour to check out the Super Pit which was a hive of goldmining activity.
The drive out to Bardoc Homestead was smooth. In general, I found the Tesla very easy and comfortable to drive. We met up with my friend, Kellie, who also works in the mining industry in an environmental capacity. After a lovely outdoor morning tea with Kellie and her parents we checked out some of the old Bardoc township cemetery restoration works Kellie had coordinated. We also took the opportunity to give Kellie and her parents a joy ride in the Tesla.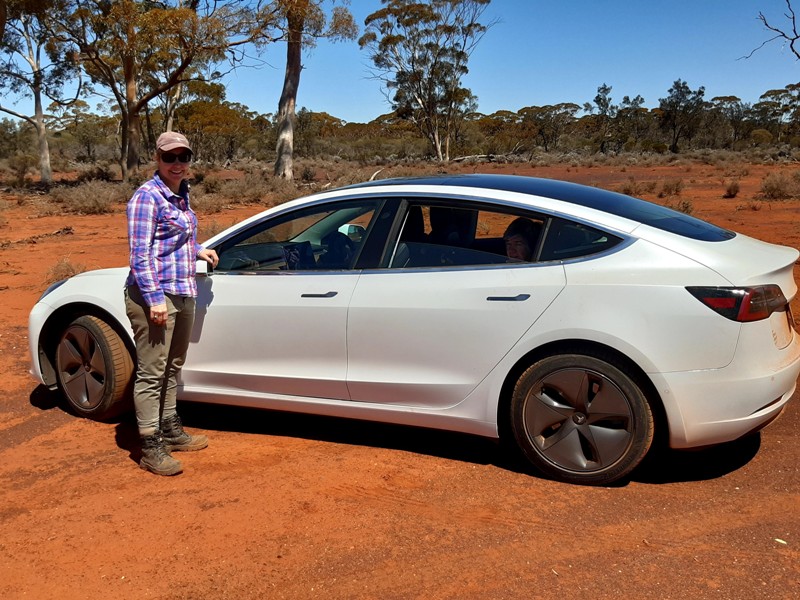 After our Bardoc visit we headed back to Kalgoorlie for a top up charge so we could make the 225 km back across to Southern Cross. Whilst the Tesla was charging we took the opportunity to do what one does in Kalgoorlie, go to the local hotel for a drink.
Around 3 pm we left Kalgoorlie bound for Southern Cross with a fully charged battery. Just over two hours later we were hooking up to the Southern Cross charger for the second time on the trip with only 24% left in the battery. We meandered down to the BP service station for a greasy, early dinner. Given we were fighting for daylight and it was only approximately 100 kms across to Merredin we only topped up to a 60% charge and left. We were progressively trying to lower our charge times but also give ourselves enough battery charge safety margin.
At about 7.30pm we rocked into Merredin after a very long day. However, we weren't quite done. We still had the issue of getting a charge. Given the Visitor Centre charger was not available outside business hours and the Merredin Regional Community and Leisure Centre was also not a goer we ended up visiting Roy Butler; another AEVA member who lives on the outskirts of town. After initially tripping out Roy's electric circuit we had success and left the Tesla to trickle charge overnight. Roy kindly lent us his own electric vehicle, a Kona, to get back into town to our accommodation, which was a great opportunity to compare EVs.
Day 4; Merredin and return to Byford
For me, Day four started with some trepidation as to whether the overnight charge at Roy's had been successful or not. After arriving at Roy's place I was delighted to find we did actually have a full charge.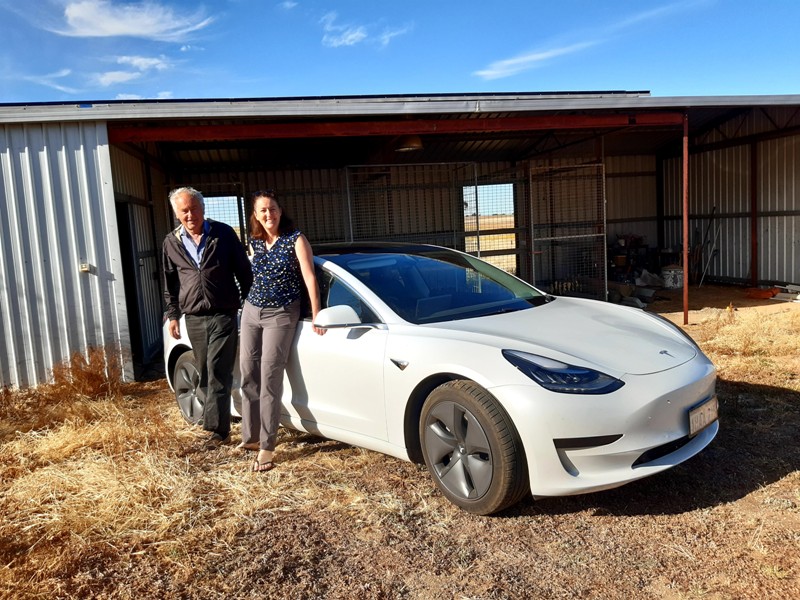 After chatting with Roy about life in Merredin for a while we made our way back into Merredin. We posed for a couple of photos in front of the colourful Merredin silos. I did one leaping for joy at our charging success in the face of some initial difficulties. Dave exercised some technical know-how and extreme patience in capturing the shot – mid leap.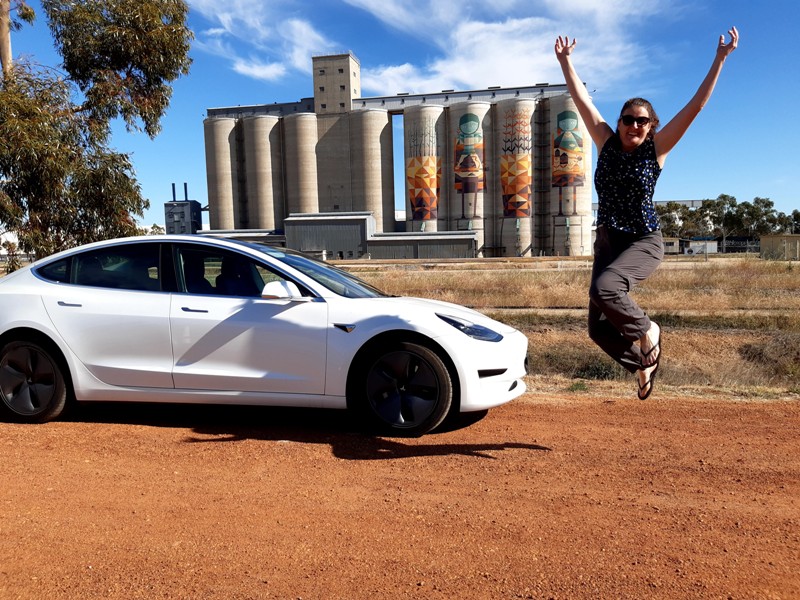 We then swung by the BP roadhouse for some more roadhouse culinary grease to fuel our journey back to Northam. We also tried out the Merredin Regional Community and Leisure Centre charger for a second time just to make sure it wasn't operator error the first time round. I realised previously there were a couple of occasions when I hadn't pushed the charger plug home properly and therefore the charger didn't connect. Alas, I wasn't successful the second time round either.
We left Merredin with 96 % battery charge. Nearly two hours later we arrived at Northam with 43% and plugged in for our final charge. We didn't do much as we waited for a charge as we were starting to feel the effects of three and a half days on the road. It started raining lightly in Northam, in spite of this we went for a quick walk on the oval to burn off the impacts of our roadhouse grease purchases and Kalgoorlie pub blowouts.
Less than an hour later we were back in the city getting used to the Perth traffic again. We managed to make it back to Matt's place in Byford unscathed but tired. Over the trip Dave and I had both become a lot more familiar with our hired Tesla and the opportunities and challenges relating to electric vehicle usage in WA.
Our mission to travel from Byford in Perth's south-east to Kalgoorlie and back in four days in a Tesla Model 3 was a success!